We use an Explicit Systematic Synthetic Phonics approach.
What is Synthetic Phonics?
From Reception, we use synthetic phonics to teach children to read quickly and skillfully. Children are taught how to:
Recognise letters with letter sounds, rather than names, for quicker decoding, (eg, /rrrrr/ instead of "ar" for the letter <r>)
Form letters correctly in a way that can prevent letter confusions ( such as with b and d),
Recognise sounds by encoding (writing) them,
Blend sounds in order to make words,
Segment (spell) words by listening to letter sounds, rather than memorisation, and
Learn to read and spell common exception words (tricky words).
This is supplemented by extensive application through the reading of decodable phonic books, and applying phonic knowledge in meaningful and purposeful writing. Children are not asked to guess what the words are based on the pictures on the page or by fitting in an 'appropriate' word. Phonics is taught directly and children are expected to master the skills above for a solid foundation in reading and writing.
Letter and Sounds
We use the programme Letters and Sounds, supplemented by Jolly Phonics and Read Write Inc.
There are 44 sounds in the English language and these are taught systematically in Reception. Children learn alternative spellings of these sounds in Year One. As English has an opaque and complex spelling system, spelling is covered throughout primary school.
Here are the letters and sounds learnt in Reception and Year One: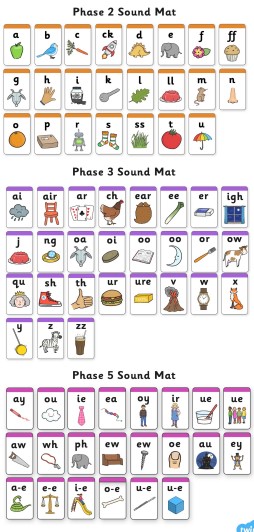 (Sound Mats from twinkl.com)
Why Phonics?
Research shows that when phonics is taught in a systematic way, such as when taught starting from the most common and easiest sounds to the most complex, it has been found to be effective, especially with children in the early years and lower primary. Children who learn reading through phonics go on able to independently tackle new words as synthetic phonics support self-learning skills. Children feel confident in reading different types of text fluently, and most of all, accurately. Children who may have reading difficulties such as dyslexia can also be supported. (DFES, 2007)